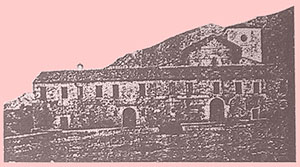 Convento di S. Bernardino
I dintorni: Morano Calabro / The neighborhood: Morano Calabro
Memoria del Terremoto del 5 Aprile 1559 / Memoir of the Earthquake of 5 April 1559
Morte del Principe Pietrantonio Sanseverino / Death of the Prince Pietrantonio Sanseverino
Bernardino Sanseverino II, il nuovo Principe / Bernardino Sanseverino II, the new Prince
Italiano
Español
English
"Ad Futuru[m] reij Memorias se declara et Scrive fa ad recordo:
P[er] me Do[nno] Dom[eni]co dejan[n]e.llo preyte serviente de S.ta M[ari]a Magdalena Memor[ia]m como lo an[n]o [..] 1559 nel cing d[e]l mise de Aprile et fu die mercorj ad hurj diciotto trimo el mu[n]do seu la terra fortime[n]te et dali cing de aprile p[er] tutto lo vlt[i]mu de ditto Mise furo i[m]momerabile (sic) terremoti [che] concordano co[n] la scriptura [che] sevran[n]o terremota p[er] loca Donde nde fu vno alli .27. de ditto mise ad vri .18. [che] fecj uno buschio grande i[n] mezzo lo cappello de s[an]to ber[nar]dino, cio/e/ d[e]l ca[m]panaro [che] li pupuli stavano admiratj et quali seg[uente] giorno et nottj Trematur et alli .28. fecj uno alt[r]o fortimentj et alli .29. de ditto mise i[n]com[m]icizao la mat[ti]na ad hurj diecj Tremao seij fiatj fortime[n]te pocho spacio luna adpresso lalt[r]o: Do[nno] [Se]Vast[ia]no de feulo diciva lamissa et si voliva co[m]monicar et si piglio de pagura [che] no[n] sapiva [che] voliva far[e] [che] sipartiva da s[opra] lo altar[e] et fo represo et lo popolo pia[n]giva et gridava la misericordia et fo lo giorno d[e]llo Sabato et si fecj una bella p[ro]cessionj et anda[m]mo ad S[an]to Nicola et fecj lo 2o terremoto [che] eramo i[n]tro S[an]to Nicola [che] fo fortissimo [che] doro quasi un credo et cascao una alt[r]a parte d[e]l ca[m]panaro de s[an]to ber[nar]d[i]no et lo populo ta[n]to piu se i[m]pagorava et semp[re] piangendo et gridando la s[an]ta misericordia et anda[m]mo a ca[n]tar la missa ad s[an]ta m[ari]a d[e]l pantano et stando lo populo co[n] divotionj et ditto lo s[an]to Eva[n]gelio et fatta la s[an]ta generale co[n]fex[io]nj feci lo 3o trimoliza et fo tanto fortj [che] videttimo [che] caschao tutto lo ditto campanaro et lo populo tutto decivano [che] si voliva aprire lo terrino et somerger[e] [che] la s[anta] missa se cantao fora [che] erano age[n]ti assaij et tutti inpagorite in quello giorno [che] fu lo sabato siccome e ditto furo.no assaij roijni [che] si Caschano assy fabrichij saxi grossi cascharo et ru[m]molaro et si spartiro davanti l'uno l'altro et corsero p[res]ti ad baschijo al pianorj et q[ue]sto lo avino de Clarato le hominj se so[n]o trovatj da fora tanto q.[uanto] ad mor[a]no Como ad altr[j] terr[itori]j son[n]o cascatj fabrice maxime et multj lignj et prodigij foro i[n] questo mise et nello jntrar d[el]lo mise de maggio Et Hoggi [che] /e/ lult[i]mo d[e]l dicto misi die Dom[eni]ca p[er] q[ue]sta terra paxao lo m[agnifi]co Sipionj fala[n]gola age[n]dario d[e]l S[ign]or principe et ven[n]j et porto nova Como lo s[ign]or pri[n]cipe no.ie pet[r]o ant[o]ni era morto ad parise de franza et dala lo portavano i[m]malzamato siccomo ve[n]nj morto i[n]tro la lettiga et q[u]esta mat[ti]na [che] /e/ lo primo giorno de maggio /e/ pax[a]to lo m[agnifi]co Mattheo Valentino de bisignano q[u]ali venj p[er] staffetta et Dicj como avi laxato lo pri[n]cipe et lo port[aro]no p[er] la letticha morto: et seritorna al terremoto et hoggi [che] /e/ lo primo di de maggio etij tremato .4. fiatj et leperq[u]sionj so[n]o andatj ad visitar[e] lo b[ea]to pet[r]o: ad Cast[rovilla]ri scutti le altrj ter[ritor]ij con uno populo grandissimo et lo tremolizo /e/ p[er]secuto p[er]fi alli .8. de maggio:- Et lo pri[n]cipe morsi ad parise de franza alli otto de Aprile d[e]llo An[n]o 1559. Sichiamava pet[r]o ant[o]nio princi[pe] de bisig[na]no et Essendo ven[u]ta la nova de sua morte lo Conte suo figlio [che] oggi lochiama Ber[nar]d[i]no fran[ces]co Joseph Nicolo al baptisimo q[ua]li li /e/ rimaso p[er]nomi ber[nardi]nus et q[ue]sto se scrive alle sue carte ber.dno pri[n]cipe de bisig[na]no Cavalcho p[er] la cita de Cassano tutte gridando pri[n]cipe pri[n]cipe i[n]na[n]zi et diret[t]o lipopulj et fu alli 3o de maggio fando grande festa et alli Cinq[ue] de maggio la s[ignor]a pri[n]cipessa no.ie Herenea Sca[n]deleberg castriota co[n] la s[ignor]a vittoria sua figlia [che] /e/ Duchessa de termine co[n]tutta la Corte fero lo pia[n]zo grandissimo et le exequij se adspettano ad far' quando venera lo corpo et se andera ad bisignano ad far dittij exequij et lo ditto Conte no.ie ut S[anto] ber[nar]d[i]no [che] hoggi /e/ cavalcato pri[n]cipe nasschettj lo secu[n]do giorno de maggio d[e]llo an[n]o 1551 sincomo ad par[e] p[er] lo libro et sta scripto jnt[r]o la sacrestia de S[an]ta m[ari]a magdal[e]na [et] d[e]lo suo nasscimento: [et] + Paxao de q[u]esta vita presente la felice memoria de pet[r]o ant[o]nio Sa[n]soverino principe de bisig[na]no alli otto de Aprile d[el]lo an[n]o d[e]l[lo] an[n]o .1559. Imparise defranza:"
(Memorie del sacerdote "Donno Domenico dejan[n]e.llo"
di Morano Calabro, scritte dal suo proprio pugno)
---

Italiano

"Memorie degli eventi per il futuro, si dichiara e si scrive come ricordo:
Memoria Per me Donno Domenico deJannello, prete servente de S.ta Maria Maddalena, come nell'anno [..] 1559 nel cinque del mese d'Aprile, e fu giorno di mercoledì ad ore diciotto, tremò il mondo ossia la terra fortemente, e dal cinque aprile per tutto l'ultimo di detto Mese furono innumerabili terremoti che concordano con la scrittura che 'si verranno terremoti per luoghi Dove non c'è stato uno'[Matteo 24:7]. Nel .27. di detto mese ad ore .18., che fece un buco grande nel mezzo del cappello di San Bernardino, cioè del campanile che i popoli stavano ammirati e qual seguente giorno e notte tremava e nel .28. fece un'altro fortemente e nel .29. di detto mese incominciò la mattina ad ore dieci: Tremò sei fiati fortemente, [con] poco spazio l'uno presso l'altro: Donno Sebastiano de feulo diceva la messa e si voleva communicar e si pigliò da paura, che non sapeva cosa voleva fare perché si partiva da sopra l'altare, e si riprese, ed il popolo piangeva e gridava la misericordia, e fu il giorno di Sabato, e si fece una bella processione, e andammo a San Nicola e fece lo 2o terremoto, che eravamo dentro San Nicola, che fu fortissimo, che durò quasi un credo, e cascò un'altra parte del campanile di San Bernardino, ed il popolo tanto più se impauriva, e sempre piangendo e gridando la santa misericordia, e andammo a cantar la missa a Santa Maria del Pantano, e stando il popolo con devozione, e detto lo santo Evangelio, e fatta la santa generale confessione, fece lo 3o tremolio e fu così forte che vedemmo che cascò tutto il detto campanile, ed il popolo tutto dicevano che si voleva aprire il terreno e sommergere, che la santa messa si cantò fuori, che c'era gente assai e tutte impaurite in quel giorno che fu il sabato. Siccome si è detto furono assai rovine che Cascano, assai fabriche, sassi grossi cascarono e rummoreggiarono e si spartirono davanti l'uno l'altro, e corsero presto in basso al pianoro, e questo l'hanno dichiarato gli uomini che si sono trovati fuori, tanto a Morano quanto ad altri territori: Sono cascate molte fabbriche e molti legni e i prodigi furono in questo mese, e sull'inizio del mese di maggio. E oggi che è l'ultimo del detto mese, dì di Domenica, per questa terra passò lo magnifico Scipione Falangola, agendario del Signor principe et venne e portò nuova, Come il signor principe nostro, Pietro Antonio era morto a Parigi di Francia, e da là lo portavano imbalsamato, perchè venne morto entro la lettiga, e questa mattina, che è il primo giorno di maggio, è passato il magnifico Matteo Valentino di Bisignano, quale venne per staffetta et Dissi, -'¿come hai lasciato il principe?' e, -'Lo portarono per la lettica morto'.

E si ritorna al terremoto; e oggi, che è il primo giorno di maggio e ha tremato .4. fiati, e le percussioni sono andate a visitare il beato pietro: A Castrovillari, scuose gli altri territori con un popolo grandissimo e lo fece tremare, e continuò perfino alli .8. di maggio:- Ed il principe morì a Parigi di Francia alli otto Aprile dell'Anno 1559. Si chiamava Pietro Antonio principe di Bisignano; ed essendo venuta la notizia di sua morte, il Conte suo figlio, che adesso si chiama Bernardino Francesco Giuseppe Nicolò al battesimo, ma gli è rimasto per nome Bernardino, e questo si scrive sulle sue carte: Bernardino principe di Bisignano cavalcò per la città di Cassano, con tutti gridando, "¡principe, principe!" innanzi e dietro il popolo, ed è stato alli 3o di maggio, facendo grande festa, e alli cinque di maggio, la signora principessa nostra Irene Scanderberg Castriota con la signora vittoria sua figlia, che è Duchessa "de termine" con tutta la Corte fecero lo pranzo grandissimo; e le esequie si aspettano a farle quando verrà lo corpo, e si andrà a Bisignano a fare le dette esequie, ed il detto Conte nostro, come Santo Bernardino, che oggi è cavalcato principe, nacque il secondo giorno di maggio dell'anno 1551, così come appare nel libro, è stà scritto dentro la sacrestia di Santa Maria Maddalena, e della sua nascita: E, + Passò da questa vita presente la felice memoria di pietro Antonio Sanseverino, principe di Bisignano alli otto di Aprile dell'anno .1559. In Parigi di Francia:"

(Memorie del sacerdote "Donno Domenico deJannello" di Morano Calabro, scritte dal suo proprio pugno)

Annotazioni:
Donno Domenico De Jannello fu il parroco di S. Maria Maddalena da circa o prima del 1539 fino all'anno 1585, come attesta il libro dei battesimi di quell'epoca.
Il 5 Aprile 1559, dichiarato da D. Domenico come mercoledì è corretto perchè la data è resa d'accordo con il Calendario Giuliano, in contrasto con il Calendario Gregoriano, che lo rimpiazzò nel 1582. Dieci giorni furono "rimossi", in modo tale che il 5 ottobre 1582 (nell'antico calendario) si trasformò in 15 ottobre 1582 (nel nuovo calendario). Tra 1559 e 1582 c'è lo stesso numero di anni bisestili in entrambi calendari, così che il cambio da Calendario Gregoriano a Calendario Giuliano si fa semplicemente movendo il giorno della settimana in avanti dieci giorni. Esempio: 5 aprile 1559 è mercoledì nel Calendario Giuliano, ma risulta domenica nel Calendario Gregoriano. In modo simile, 29 aprile 1559 è sabato nel Calendario Giuliano, risultando mercoledì sul Calendario Gregoriano. A.B.
"Breve descrizione del campanile del convento di San Bernardino", in V. Severini. Cronol. moran. del sec. XIX ad annum cit., citato in "I Conventi Francescani in Morano Calabro", di Biagio Cappelli, a cura del Comitato di Morano Calabro per il VII Centenario Francescano. Castrovillari: Tip. Patitucci 1926.
Il Campanile: Coeva di tutta la costruzione sovrasta e sembra vigilare la chiesa l'antica quadrata torre campanaria - alla quale si accende da una delle ricordate porticine dell'abside - che consta di due altissime volte sovrapposte.
Attraverso una fessura nel pavimento si scorge un saldo arco, forse sostegno alle fondamenta; sulle mura si notano sbiadite traccie di freschi e nella prima volta a crociera - rovinata in qualche punto - poderosa e sostenuta da peducci scolpiti, quattro fori per le corde delle campane. La seconda volta è quasi intieramente rifatta come chiuse sono le primitive lunghe finestre delle quali ne resta soltanto una essendosi le altre sostituite con aperture quadrate. Delle sue campane abbiamo memoria di una sola - la maggiore scrive il Prof. V. Severini - che nel 1814 fu trasportata alla Chiesa della Maddalena e poi nuovamente fusa nel 1881.
Per vedere l'aspetto odierno di S. Bernardino, vedasi "Per chi Suona il Calascione" in Bell'Italia, n. 53, Sett. 1990, p. 73-74, Editrice Giorgio Mondadori.
C. Gatta, nelle sue Memorie topografico-storiche della provincia di Lucania, Ed. Muzio, Napoli 1732, p. 195, riporta il seguente: "Essendo poi Pier Antonio fatto di vita cagionevole, ed infine indisposto d'idropisia, partendo di Napoli se ne andò in Fiandra, lusingato di sperimentare profittevole un'acqua minerale, che ivi sgorga, e non sentendo di quella niun giovamento, andossene a visitare il re Filippo II da cui prendendo commiato si ritirò in Francia nella città di Parigi con pensiero di consultarsi con què medici, che erano ivi famosi: ma gravato molto dal male essendo onorevolmente trattato in quella città come a simile Principe conveniva, morì..." Per altri dettagli, si veda il lavoro di A. Savaglio, I Sanseverino e il feudo di Terranova, Ed. Orizzonti Meridionali, Cosenza 2001, p. 241.

All'anno


---

Español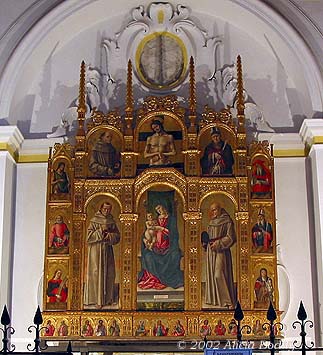 "Memorias de los eventos para el futuro, se declara y se escribe como recuerdo:
Memoria Por mí Don Domenico deJa[n]nello, sacerdote sirviente de S.ta Maria Magdalena, como en el año [..] 1559 en el cinco del mes de abril, que fue día miércoles a la hora dieciocho, tembló el mundo, o sea la tierra, fuertemente, y desde el cinco de abril hasta el último de dicho mes, hubo innumerables terremotos, que concuerdan con la escritura que 'se verán terremotos en lugares donde no ha habido uno' [Mateo 24:7]. El .27. de dicho mes, a la hora .18., que hizo un agujero grande en el centro del techo del 'sombrero' de San Bernardino, es decir del campanario, que el pueblo quedó admirado, y que durante el siguiente día y noche estaba temblando, y en el .28. fue otro, fuertemente, y en el .29. de dicho mes empezó a la mañana a las diez horas: Tembló [por espacio de] seis respiros fuertemente, con poco espacio uno detrás del otro: Don Sebastián de Feulo estaba diciendo la misa y quería recibir la comunión y de dio miedo, que no sabía qué quería hacer, porque el altar se partía en dos desde arriba, y se compuso, y el pueblo lloraba y gritaba la misericordia, y fue el día Sábado, y se hizo una hermosa procesión, y fuimos a San Nicola y sucedió el 2o terremoto, cuando estábamos dentro de San Nicola, que fue fuertísimo, que duró casi un Credo, y se cayó otra parte del campanario de San Bernardino, y la población tanto más se atemorizaba, y siempre llorando y gritando la santa misericordia, y fuimos a cantar la misa a Santa María del Pantano, y estando el pueblo con devoción, y habiendo dicho el Santo Evangelio, y hecha la santa general confesión, ocurrió el 3o movimiento, y fue tan fuerte que se cayó todo el dicho campanario, y el pueblo todo decía que se quería abrir la tierra y sumergirse, [fue así] que la santa misa se cantó afuera, que había michísima gente y todas atemorizadas en ese día que fue Sábado. Como ya se ha dicho, hubo muchísimas ruinas que cayeron, muchísimos edificios, grandes piedras que se cayeron e hicieron ruido y se partieron una delante de la otra, y corrieron rápido cuesta abajo hacia la llanura, y a ésto lo han declarado los hombres que se encontraban afuera, tanto en Morano como en otros territorios: Se han caído muchos edificios y muchos árboles y los prodigios fueron en este mes, y al comienzo del mes de mayo. Y hoy, que es el último día de dicho mes, día Domingo, por esta tierra pasó el magnífico Scipione Falangola, agendario del Señor príncipe y vino y trajo noticia, de como el señor príncipe nuestro, Pietro Antonio se murió en París de Francia, y de allí lo llevaban embalsamado, dado que murió dentro de la litera, y esta mañana, que es el primer día de mayo, pasó el magnifico Matteo Valentino de Bisignano, que vino como estafeta, y le dije, -"¿cómo has dejado al príncipe?" y, -"Lo llevaron en una litera muerto".
Y se retorna al terremoto; y hoy, que es el primer día de mayo y ha temblado .4. respiros, y las percusiones han ido a visitar al beato pietro: En Castrovillari, sacudió los otros territorios con un pueblo grandísimo y lo hizo temblar, y continuó hasta el 8 de mayo: -Y el príncipe murió en París de Francia a ocho de abril del año 1559. Se llamaba Pietro Antonio príncipe de Bisignano; y habiendo llegado la noticia de su muerte, el Conde su hijo, que ahora se llama Bernardino Francesco Giuseppe Nicolò en el bautismo, pero al cual le ha quedado por nombre Bernardino, y ésto se escribe sobre sus cartas: Bernardino principe di Bisignano, cabalgó por la ciudad de Cassano, con todos gritando, "¡príncipe, príncipe!" delante y detrás el pueblo, y fue a 3o de mayo, haciendo una gran fiesta, y a cinco de mayo, la señora princesa nuestra Irene Scanderberg Castriota con la señora Vittoria su hija, que es Duquesa "de termine" con toda la Corte hicieron una comida grandísima, y a las exequias se espera hacerlas cuando venga el cadáver, y se irá a Bisignano a hacerle las dichas exequias, y nuestro dicho Conde, como San Bernardino, que hoy ha cabalgado como príncipe, nació el segundo día de mayo del año 1551, como aparece en el libro, y está escrito dentro de la sacristía de Santa María Magdalena, y de su nacimiento: Y, + pasó de esta vida presente la feliz memoria de Pietro Antonio Sanseverino, príncipe de Bisignano, a ocho de Abril del año .1559. en París de Francia:"
(Memorias del sacerdote "Donno Domenico deJannello" de Morano Calabro, escritas de su propio puño)
Notas:
Don Domenico De Jannello fue el párroco de S. Maria Maddalena desde cerca o antes del año 1539 hasta el año 1585, como lo atestigua el libro de bautismos de esa época.
Abril 5 1559, mencionado por D. Domenico como miércoles es correcto porque la fecha se da de acuerdo con el Calendario Juliano, en contraste con el Calendario Gregoriano, que fue adoptado en 1582. Diez días fueron "removidos", de modo tal que octubre 5, 1582 (en el calendario antiguo) se convirtió en octubre 15, 1582 (en el calendario nuevo). Entre 1559 y 1582 hubo el mismo número de años bisiestos en ambos calendarios, así que el cambio de Calendario Gregoriano a Calendario Juliano es simplemente mover el día de la semana hacia adelante diez días. Ejemplo: abril 5 1559 es miércoles de acuerdo con el Calendario Juliano, pero es domingo de acuerdo con el Calendario Gregoriano. En forma similar, abril 29, 1559 es sábado en el Calendario Juliano, pero es miércoles en el Calendario Gregoriano. A.B.
"Breve descripción del campanario del convento de San Bernardino", en V. Severini. Cronol. moran. del sec. XIX ad annum cit., citado en "I Conventi Francescani in Morano Calabro", de Biagio Cappelli, a cargo del Comité de Morano Calabro para el VII Centenario Franciscano. Castrovillari: Tip. Patitucci 1926.
El Campanario: Contemporánea de toda la construcción, se sobrepone y parece vigilar la iglesia la antigua cuadrada torre campanaria - a la cual se asciende desde una de las recordadas puertitas del ábside - que consta de dos altísimas bóvedas sobrepuestas.
A través de una fisura en el pavimento se distingue un sólido arco, quizás sostén de los cimientos; en las paredes se notan desteñidas trazas de frescos y en la primera bóveda a crucería - arruinada en algunos lugares - poderosa y sostenida por ménsulas esculpidas, cuatro agujeros para las cuerdas de las campanas. La segunda bóveda ha estado casi enteramente rehecha, como así también están cerradas las primitivas largas ventanas de las cuales queda solamente una, porque las otras fueron sustituidas con aberturas cuadradas. De sus campanas tenemos el recuerdo de una sola - la mayor, escribe el Prof. V. Severini - que en el 1814 fue transportada a la Iglesia de la Magdalena y después nuevamente fundida en 1881.
Para ver el aspecto actual de S. Bernardino, véase "Per chi Suona il Calascione" en Bell'Italia, n. 53, Sept. 1990, p. 73-74, Editorial Giorgio Mondadori.
C. Gatta, en sus Memorie topografico-storiche della provincia di Lucania, Ed. Muzio, Napoli 1732, p. 195, provee la siguiente información: "y como Pier Antonio tenía una constitución delicada, y finalmente enfermo de hidropesía, partiendo de Napoli se fue a Flandes, con la esperanza de probar los beneficios de un agua mineral, que allí surge, y no sintiendo de ella ninguna mejora, se fue a visitar al rey Felipe II del cual obteniendo el permiso de irse, se retiró a Francia en la ciudad de París con la idea de consultar con aquellos médicos, que eran allí famosos: pero muy agobiado del mal, habiendo sido tratado en esa ciudad como correspondía a tal Príncipe, falleció..." Para ver otros detalles, consultar el trabajo de A. Savaglio, I Sanseverino e il feudo di Terranova, Ed. Orizzonti Meridionali, Cosenza 2001, p. 241.
Al año 1553


---

English
"Memoirs of the events for the future, declared and written in remembrance:
Memoir by me Don Domenico deJannello, priest serving at S.ta Maria Magdalena, how in the year [..] 1559 on the fifth of the month of April, which was Wednesday, at eighteen hours, the world shook, that is the ground, violently, and from the fifth of April until the last day of the said month, there were innumerable earthquakes, which agrees with the scripture that 'earthquakes will be seen in places where there had been none'[Matthew 24:7]. On the .27. of the said month, at .18. hours, was made a big hole in the center of the roof of the cupola of St. Bernardine, that is of the belfry, and the people were left astonished, and that during the following [tremor], it was shaking the following day and night, and on the .28. there was another strong one, and on the .29. of the said month it started in the morning at ten hours: The shaking lasted [for the space of] six breaths strongly, with little time one after the other: D. Sebastiano de Feulo was celebrating Mass and he wanted to receive communion and was seized by fear, because he did not know what to do, because the altar was being ripped in two from the top, then he got better, and the people were shouting and crying mercy, and it was Saturday, and there was a great procession, and we went to St. Nicholas, and the 2nd earthquake took place, when we were inside St. Nicholas, that was extremely strong, and lasted almost one Creed, and another part of the belfry of St. Bernardine collapsed, and the more the population was afraid, and always crying and shouting holy mercy, and we went to sing Mass at St. Mary of the Marsh, and being there the people devotedly, and having said the Holy Gospel, and finished the holy general confession, the 3rd movement took place, and it was so strong, that the whole said belfry fell, and all the people were saying that the earth wanted to open and sink, [so] the mass was sung outside, there was a very large number of people, and all were afraid on that day which was Saturday. As has been mentioned, there were a great many ruins that fell, a great number of buildings, great stones that fell and made noise and cracked one in front of the other, and ran quickly downwards toward the plain. This was declared by the men who were outside, as well in Morano, as in other areas: Many buildings and trees have fallen and the marvels were this month, and at the beginning of the month of May. And today, which is the last day of that month, which is a Sunday, the Magnificent Scipione Falangola, 'agendario' of the Lord Prince came and brought news of how the lord our prince, Pietro Antonio died in Paris of France, and from there they were going to take him embalmed, since he died inside the litter, and this morning, which is the first day in May, came the Magnificent Matteo Valentino of Bisignano, as a courier, and I said, -'How have you left the prince?' and [he said] -'They took him on a litter, dead'.
And we go back to the earthquake; and today, which is the first day of May and the earth has shaken .4. breaths, and the percussions have gone up to visit the blessed Pietro: In Castrovillari, it shook the other territories with an enormous amount of people and it made them tremble, and it continued until the 8th of May: -And the prince died in Paris of France on the 8th of April of the year 1559. His name was Pietro Antonio prince of Bisignano; and when the news of his death arrived, the Count his son, whose name up to now has been Bernardino Francesco Giuseppe Nicolò on his baptism, but who is now known as Bernardino, and thus it is written on his letters: Bernardino prince of Bisignano rode on horseback through the city of Cassano, with all the people shouting, 'prince, prince!' in front and in back, and it was on the 3rd of May, with a great celebration, and on the 5th of May, our lady the princess Irene Scanderberg Castriota with lady Vittoria her daughter, who is a Duchess "de termine" with the whole Court held a huge feast, and the funeral is expected when the body arrives, and they will go to Bisignano to conduct the funeral, and the said our Count, like St. Bernardine, that today has ridden as a prince, was born on the second day of May of the year 1551, as it appears on the book, and it is written inside the Sacristy of St. Mary Magdalene and about his birth: And, + Went on from this life the happy memory of Pietro Antonio Sanseverino, prince of Bisignano, on the 8th of April of the year .1559. in Paris of France:"
(Memoirs of the priest "Donno Domenico deJannello" of Morano Calabro, written by his own hand)
Notes:
Don Domenico De Jannello was the parish priest of S. Maria Maddalena since about or before the year 1539 until the year 1585, as the book of baptisms of that time attests.
April 5th 1559, listed by D. Domenico as Wednesday is accurate because the date is given in the Julian Calendar, as opposed to the Gregorian Calendar, which was adopted in 1582. Ten days were "removed", so that October 5th, 1582 (in the old calendar) became October 15, 1582 (in the new calendar). Between 1559 and 1582 there were the same number of leap years in both calendars, so the date change from Gregorian Calendar to Julian Calendar is simply to move the day of the week forward ten days. Example: April 5th 1559 is a Wednesday according to the Julian Calendar, but it is a Sunday according to the Gregorian Calendar. Likewise, April 29, 1559 is a Saturday according to the Julian Calendar, but Wednesday according to the Gregorian Calendar. A.B.
"Brief description of the bell tower of the convent of San Bernardino", in V. Severini Cronol. moran. del sec. XIX ad annum cit., quoted in "The Franciscan Convents of Morano Calabro", by Biagio Cappelli, edited by the Committee of Morano Calabro for the VII Franciscan Centenary. Castrovillari: Tip. Patitucci, 1926.
The Bell Tower: Contemporary with all the construction, the ancient square bell tower stands above and seems to watch over the church. It can be reached by going up through one of the remembered small doors of the absid - which is made of two very high superimposed vaults.
Through a fisure in the pavement can be seen a strong arch, perhaps supporting the foundations; on the walls are noticeable faded traces of frescoes and on the first cross-vault - deteriorated in some spots - powerful, and sustained by sculpted corbels, four holes for the bell pulls (ropes). The second vault is almost completely redone, and the primitive long windows are closed, of which only one is left, because the others were substituted with square openings. We only have the memory of only one of its bells - the main one, writes Professor V. Severini - which in 1814 was transported to the Church of the Magdalene and then newly cast in 1881.
To see S. Bernardino as it looks today, see "Per chi Suona il Calascione" in Bell'Italia, n. 53, Sept. 1990, pp. 73-74, Editrice Giorgio Mondadori.
C. Gatta, in his Memorie topografico-storiche della provincia di Lucania, Ed. Muzio, Napoli 1732, p. 195, states: "Being Pier Antonio of delicate health, and finally sick with dropsy, he departed from Naples and went to France, with the illusion of finding profit from a certain mineral water that comes out of a spring there, and not finding in it any improvement, he went to visit king Philip II, from whom he received permission to leave. He retired to France in the city of Paris with the idea of getting advice from those doctors who were famous there: but being burdened much from the disease, having been treated as honorably as is appropriate to such a Prince, he died..." For other details, see the work of A. Savaglio, I Sanseverino e il feudo di Terranova, Ed. Orizzonti Meridionali, Cosenza 2001, p. 241.
To the year 1553